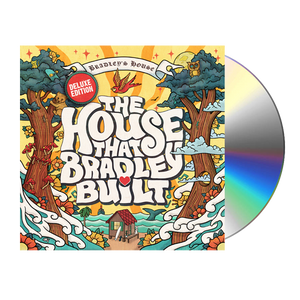 The House That Bradley Built
(DELUXE EDITION) 
is the full 55 song acoustic compilation celebrating Bradley James Nowell and the incredible songs he wrote and was inspired by. The
DELUXE EDITION
is a 3 Disc CD and features 32 unreleased songs in addition to the 24 previously released on the first album released in September. 
The proceeds will continue to benefit Bradley's House, a highly-anticipated, six-bed drug rehab and recovery center founded by the Nowell Family. The recovery center aims to provide "top-level clinical care, including medical detox" for "people in the music industry with opiate addiction, regardless of their financial situation". 
The House That Bradley Built -

 

CD
Disc 1
Iration - DJs
Pepper - Date Rape 
KBong - Foolish Fool 
Kash'd Out - Slow Ride
Joe Sambo - 5446/Ball and Chain
Passafire - Greatest Hits 
Tropidelic - Smoke Two Joints 
Kyle Smith - Romeo
Mike Pinto - Superstar Punani
Shane Hall - Under My Voodoo
Seranation - Ebin
Ethan Tucker - Steppin Razor 
Mic Dangerously - Freeway Time in LA County Jail 
Cheers to Nothing - We're Only Gonna Die 
Falling Idols - Falling Idols 
Tomorrows Bad Seeds - Get Out 
Disc 2
Naughty Don - Waiting for My Ruca
The Expendables - Wrong Way
Fortunate Youth - Jailhouse
The Elovaters - Get Ready
E.N Young - Pawn Shop
Fayuca - Caress Me Down
Roots of Creation - Roots of Creation 
The Supervillains - What Happened
Jason DeVore of Authority Zero - April 29th, 1992
theLine - Ebin
Bad Cop / Bad Cop - All You Need
Buck-O-Nine - Burritos
Bumpin Uglies - Same in the End
Through The Roots - Real Situation 
Save Ferris - Santeria
Bret Bollinger - Mary 
Disc 3 
Common Kings - Garden Grove
Descendents - Hope
Long Beach Dub Allstars - Little District
Half Pint - Lovin'
Pepper - Work That We Do
Johnny Cosmic - 40 oz. to Freedom
Trevor Young of SOJA - Santeria 
HIRIE - Saw Red
Mad Caddies - New Song
The Skints - Get Ready
Cydeways - Let's Go Get Stoned 
The Movement - Get Out 
Leilani Wolfgramm - New Realization 
Ballyhoo! - S.T.P. 
O.A.R. - Badfish
Vana Liya - The Ballad of Johnny Butt 
The Expanders - Scarlet Begonias 
Jim Lindberg of Pennywise - Boss D.J. 
RAS 1 - Right Back
Tunnel Vision - Pool Shark
Nice Mike - Don't Push 
Bert Susanka of The Ziggens - Big Salty Tears
Jim and Jake Nowell - Rivers of Babylon